The General Aviation Council of Hawaii, Inc
further aviation safety within the State of Hawaii

represent and express the interest of the general aviation (GA) community in Hawaii in dealings with Federal, State and Local officials

foster the growth, education, safety and understanding of GA activities

communicate with GACH members and others on interests to the GA community

sponsor or assist in fly-ins, air shows, educational and safety seminars, classes and other general aviation activities designed to improve pilot proficiency and enjoyment and to facilitate aviation education

carry out any other function or activity permitted by law so long as it does not adversely impact the non-profit or tax exempt status to GACH
GACH is open to all aviators from Hawaii who are Federal Aviation Regulated Part 91, 135, 141 operators or who are Student Pilots, Sport Pilots, Recreational Pilots, Private Pilots, Commercial Pilots, Air Transport Pilots, or Certified Flight Instructors, and fly airplanes, rotorcraft, gliders, lighter-than-air, power parachute, weight-shift-control aircraft, and power-lift aircraft or who support aviation in Hawaii.
If you want your voice heard, want aviation safety improved in Hawaii, educate people about Hawaii aviation, and to ensure Hawaii aviation grows, join GACH today.
Owner of Pacific Air Charters and commercial pilot.

---
Commercial rated multi-engine pilot & CFII.

---
Private pilot with instrument rating, working on commercial certificate, local business owner, and web designer.

---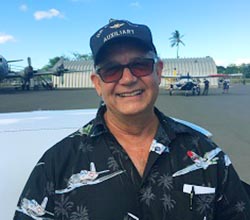 "Have hammer will travel". SELS with instrument rating.

---
Our members are made up of pilots, both commercial & private, and aviation enthusiasts who actively support and look to improve Hawaii's general aviation community through a spirit of collaboration and mutual respect.
Becoming a member comes with great benefits…